Solé Medical Spa
1489 Kennedy Rd.
Tifton, GA 31794
Phone: (229) 238-2007
Monday, Wednesday, Thursday, Friday: 9 a.m.–5 p.m.
Tuesday: 9 a.m.–8 p.m.

Laser Skin Rejuvenation
Advanced laser and light-based energy technologies have made skin rejuvenation treatments safer and more effective than ever before for people who want to refresh their skin's appearance. At Solé Medical Spa in Tifton, Dr. Richard Pierzchajlo specializes in laser skin treatments that help patients from Albany, Valdosta, Moultrie, and Douglas, GA, reverse the toll sun damage, gravity, and the natural aging process can take on their skin.
Who Can Benefit From Laser Skin Rejuvenation?
Dr. Pierzchajlo uses his expertise with energy-based skin rejuvenation and laser skin resurfacing procedures to customize treatments based on each patient's specific concerns and cosmetic goals. Women and men of all ages come to Solé from cities like Albany and Cordele for laser skin rejuvenation. You may also want to ask about VirtueRF, a skin rejuvenation treatment that combines microneedling with radiofrequency energy. Whether you are a suitable candidate depends on what you would like to accomplish and the degree of skin damage. Patients who benefit from these procedures want to address issues such as:
Discoloration: Brow or reddish spots on the face, hands, chest (décolletage), and arms caused by sun exposure and other environmental factors.
Uneven, rough texture: With age, our skin no longer feels as smooth as it did in our youth and can appear dry.
Sagging: The skin gradually loses elasticity as collagen production slows down; combined with volume loss, this leads to jowls, under-eye bags, and lax cheeks.
Fine lines and wrinkles: Early signs of aging often appear on the neck and around the mouth.
Laser 360
In some cases, Dr. Pierzchajlo may recommend combining different laser and light procedures over a series of treatments. A Laser 360 is three separate treatment modalities performed at the same session, which addresses discoloration, laxity, and texture (that's the 3) over 60 days. The sessions occur on days 1, 30 & 60. That's a Laser 3-60. These treatments feature intense pulsed light (IPL) for discoloration, vShape for skin tightening, and Pixel RF for resurfacing.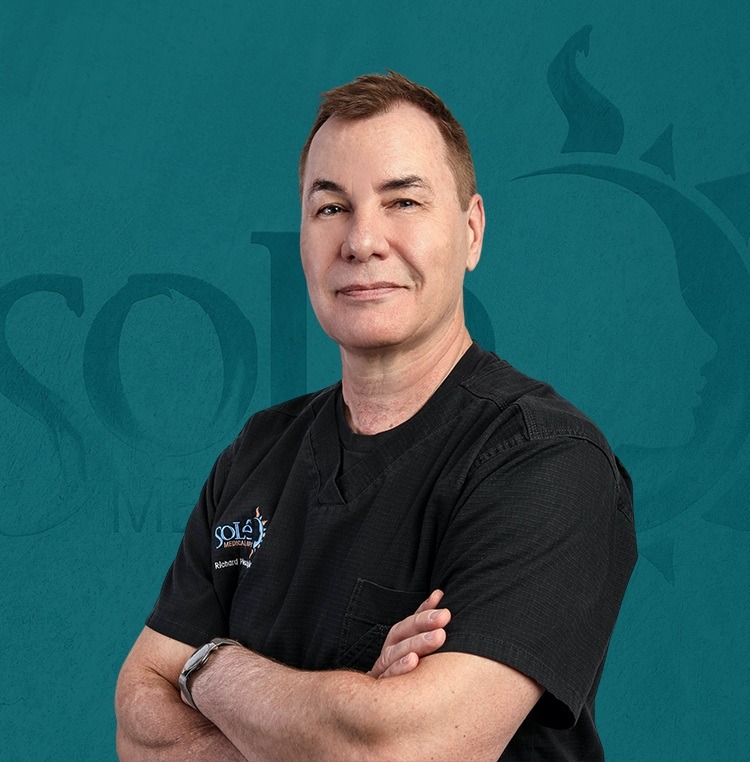 Meet Dr. Richard Pierzchajlo
Dr. Pierzchajlo and his wife, Melissa Pierzchajlo, started Solé Medical Spa in 2008 and since then it has earned a reputation for providing clinically proven, advanced aesthetic treatments for the face and body. Dr. Pierzchajlo is a dual board-certified physician with advanced training in laser skin treatments and is recognized as one of the country's leading cosmetic injectors.
Meet Dr. Pierzchajlo
Credentials You Can Trust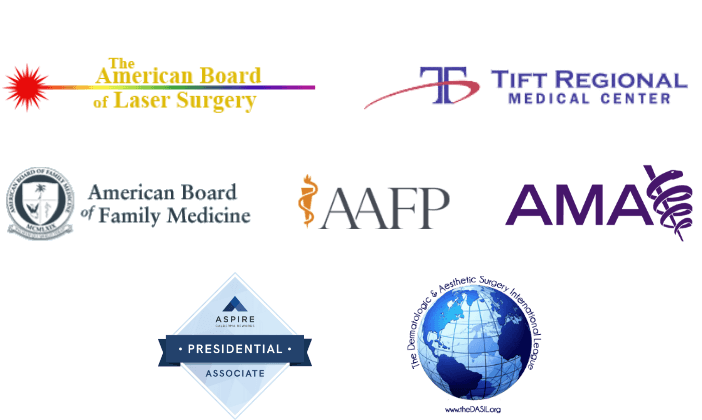 What Is Intense Pulsed Light (IPL)?
Even though IPL is often thought of as a laser treatment, it actually uses pulses of light energy to reduce skin discoloration, such as age spots and melasma. Additionally, we can efficiently treat facial and neck redness, rosacea, spider veins, broken blood vessels, and sun damage using the Alma Dye VL platform.
IPL treatments work by targeting pigment below the skin's surface without damaging the external skin. This eliminates the downtime associated with laser skin resurfacing. You'll notice results after 1 or 2 treatments, but we recommend a series of sessions to get optimal results. It's also important that patients following a daily skincare routine to enhance and maintain the results.
What Is ThermiSmooth?
ThermiSmooth is a non-invasive skin tightening and wrinkle treatment procedure that uses heat generated by radiofrequency (RF) energy. It can be used anywhere on the face and neck, especially for moderate sagging in more delicate areas such as around the eyes and mouth. The ThemiSmooth applicator delivers precise heating that stimulates new collagen production, and Dr. Pierzchajlo can combine it with other med spa services to enhance the results.
Treatments are gentle, and patients say it feels like a soft, warm massage. Because it's non-invasive, there are no side effects, and patients may resume regular activity immediately.
You and Dr. Pierzchajlo will have an in-depth discussion about your concerns during your first visit to Solé Med Spa. Patients considering laser skin rejuvenation travel from throughout South Georgia to have Dr. Pierzchajlo perform their treatments. Request a free consultation or call us at (229) 238-2007 to schedule an appointment.
A Reputation Built on Results
Hello, my name is Guadalupe, I had my appointment with Doctor Richard on July 31, I went to get Botox....
Great experience and friendly staff! Dr Pierzchajlo awesome! Thank you all!!
Haley was so great!! I had laser hair removal on my lower legs and she was very professional and gentle....
Absolutely an amazing experience!
Back to Top