Solé Medical Spa
1489 Kennedy Rd.
Tifton, GA 31794
Phone: (229) 238-2007
Monday, Wednesday, Thursday, Friday: 9 a.m.–5 p.m.
Tuesday: 9 a.m.–8 p.m.

BOTOX® & Dysport®
Our changing facial expressions communicate surprise, joy, anger, and a range of other emotions. They also happen to be among the reasons we develop crow's feet, worry lines, and forehead wrinkles as we age. Dr. Pierzchajlo skillfully performs Dysport and BOTOX injections at our Tifton medical spa to help clients from Albany, Valdosta, Moultrie, and Douglas, GA, minimize those unwanted lines and wrinkles to create results that look rejuvenated yet completely natural.
How Do BOTOX & Dysport Work?
Our faces age in different ways. The "expression lines" targeted by BOTOX and Dysport develop gradually around the eyes and forehead. Both BOTOX and Dysport—called neuromodulators—work by temporarily blocking the signals sent from nerves to targeted tiny facial muscles. By relaxing these muscles, the creases are released and the skin becomes smoother.
These "dynamic wrinkles" are different from the lines and creases that result from sun exposure and age-related volume loss that dermal fillers treat. Those "static wrinkles" include nasolabial folds and lines that develop around the mouth, among others.
How Much Does BOTOX & Dysport Cost in Tifton, GA?
The cost for BOTOX and Dysport treatments varies with treatment areas and individual patient needs. We provide each patient with a specific price quote during their consultation.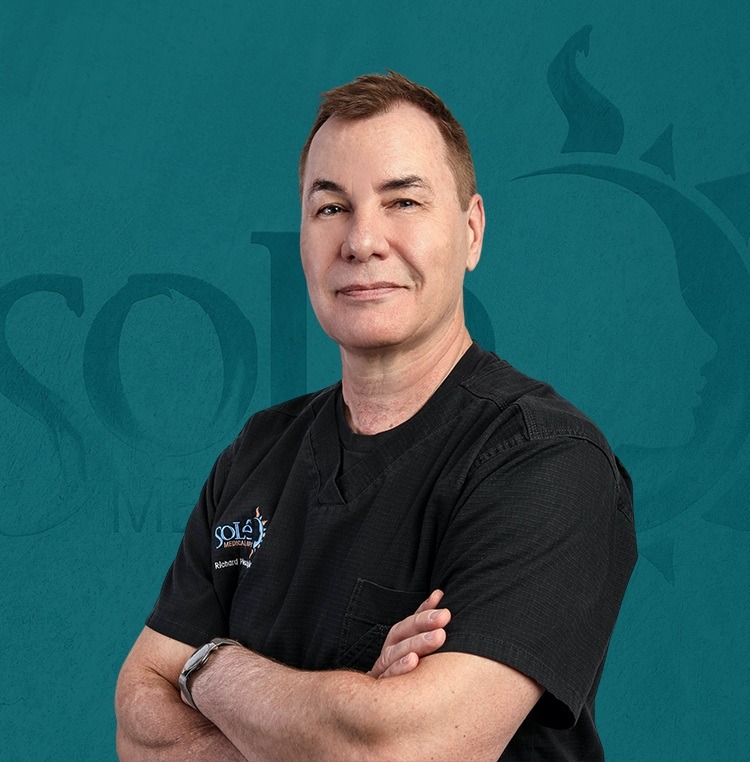 Meet Dr. Richard Pierzchajlo
Dr. Pierzchajlo and his wife, Melissa Pierzchajlo, started Solé Medical Spa in 2008 and since then it has earned a reputation for providing clinically proven, advanced aesthetic treatments for the face and body. Dr. Pierzchajlo is a dual board-certified physician with advanced training in laser skin treatments and is recognized as one of the country's leading cosmetic injectors.
Meet Dr. Pierzchajlo
Credentials You Can Trust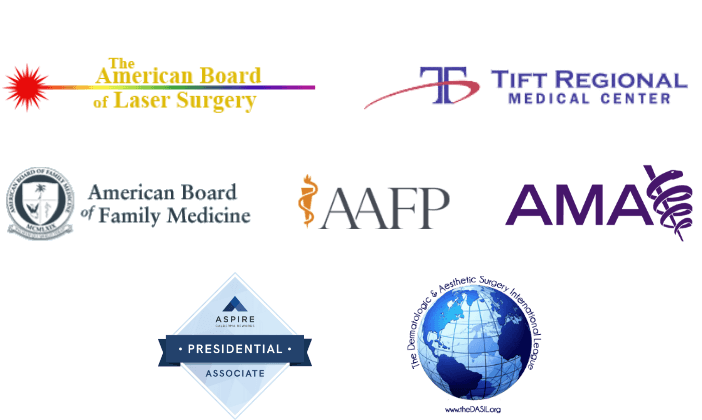 Should I Get BOTOX or Dysport?
Each product includes the same active ingredient but has a slightly different formulation, affecting how soon you see the results and how long those results last. BOTOX, which was the first neuromodulator approved by the FDA, typically takes effect in about a week and lasts 3 months before patients need a maintenance treatment. Dysport, on the other hand, takes effect in 2 to 3 days and lasts about a month longer than BOTOX, which is why we recommend it as our first choice to patients.
Another product, XEOMIN®, is a more purified form of BOTOX and also lasts about 3 months
Combining BOTOX & Dysport With Dermal Fillers
Our approach is to use the treatments that are the most appropriate for a patient's concerns. This often means we recommend a combination of fillers and Dysport or BOTOX (called a liquid or nonsurgical facelift). Dr. P. considers what treatments will produce the comprehensive results you want, so instead of treating a specific area of the face, he assesses your appearance from an overall standpoint.
BOTOX vs. Dermal Fillers
BOTOX and dermal fillers are both injectables used for facial rejuvenation but there are some differences. Here is a quick comparison:
BOTOX
Treats dynamic wrinkles
Other uses include gummy smile treatment and jaw reduction
See results in about a week
Results last 3 to 4 months
Dermal Fillers
Treat static wrinkles and volume loss
Other uses include nonsurgical rhinoplasty, lip augmentation, and hand rejuvenation
See results immediately
Results last 6 months to 2 years
A Reputation Built on Results
Hello, my name is Guadalupe, I had my appointment with Doctor Richard on July 31, I went to get Botox....
Great experience and friendly staff! Dr Pierzchajlo awesome! Thank you all!!
Haley was so great!! I had laser hair removal on my lower legs and she was very professional and gentle....
Absolutely an amazing experience!
Who Is a Good Candidate for Dysport or BOTOX?
Women and men concerned about early signs of facial aging can benefit from Dysport or BOTOX injections, but we're also treating patients in their 20s who want to delay the onset of wrinkles. Because Dysport and BOTOX work by relaxing the muscle movements that cause wrinkles and lines, getting injections early can help keep your skin smooth.
There are other aesthetic uses for BOTOX and Dysport as well, including:
Minimizing the "orange peel" appearance on chins
Reducing a "gummy smile"
Creating a more pleasant appearance by relaxing frowning lips
Jawline slimming
Relaxing neck bands (platysma muscle)
Brow lifting
It's important to note that these treatments require an injector with a high degree of expertise, such as Dr. P. His experience and skills set him apart from other injectors in South Georgia. That is why patients travel an hour or more from Albany, Valdosta, and surrounding areas for Dysport or BOTOX injections.
Alternative Treatments to BOTOX & Dysport
Instead of treating wrinkles with BOTOX or Dysport, there are a variety of alternatives, which include:
For even more beautiful results, we can perform a combination of BOTOX/Dysport and some of these other treatments.
BOTOX & Dysport FAQ
Are BOTOX and Dysport better than JUVÉDERM and other dermal fillers?
Neuromodulators are better for smoothing out dynamic wrinkles, like frown lines between the eyebrows, that are caused by the contractions of facial muscles. Dermal fillers are better for filling out folds and deep creases such as smile lines around the mouth. Fillers can also sculpt the lips and restore volume to the cheeks, around the eyes, and at the temples. Often, a combination of neurotoxin and filler injections provides the best results.
Are injectable wrinkle treatments dangerous?
Both products contain a purified form of botulinum toxin and are very safe when administered in small doses by a trained and experienced injector.
What's baby BOTOX?
This treatment involves using very small amounts of BOTOX to stop early lines and wrinkles from becoming deeper and more noticeable. It is best for younger people who want to treat dynamic wrinkles proactively.
Is a BOTOX lip flip better than lip fillers?
A BOTOX lip flip is a lip enhancement treatment performed by injecting BOTOX into the muscles of the top lip. Once the muscles relax, the top lip turns up slightly, exposing the red vermillion so that it looks fuller. In contrast, lip fillers actually make the lips fuller with injections of dermal filler. Depending on your needs and cosmetic goals, one might be better than the other. Often patients benefit from a combination of BOTOX and lip fillers.
Is there anything I should avoid after treatment?
While no downtime is needed, we recommend the following precautions for the best BOTOX results:
For the first few hours:
Don't rub or put pressure on the injection sites
Keep your head elevated—don't bend over at the waist or lie down
Hold off on applying makeup
Wait until the next day for the following:
Strenuous exercise
Extreme heat or cold
Alcohol or caffeine
What's the best age to start BOTOX or Dysport?
Adults get their first neuromodulator treatments at a variety of ages. Many are over 40 and want to smooth out lines and creases that make them look tired, angry, or older than they feel. Others are in their late 20s to 30s and want to treat dynamic wrinkles proactively—before they develop or become noticeable.
If you want to learn more about how Dysport and BOTOX can help you, request a free consultation with Dr. P or call Solé Medical Spa at (229) 238-2007 to schedule an appointment.
Back to Top